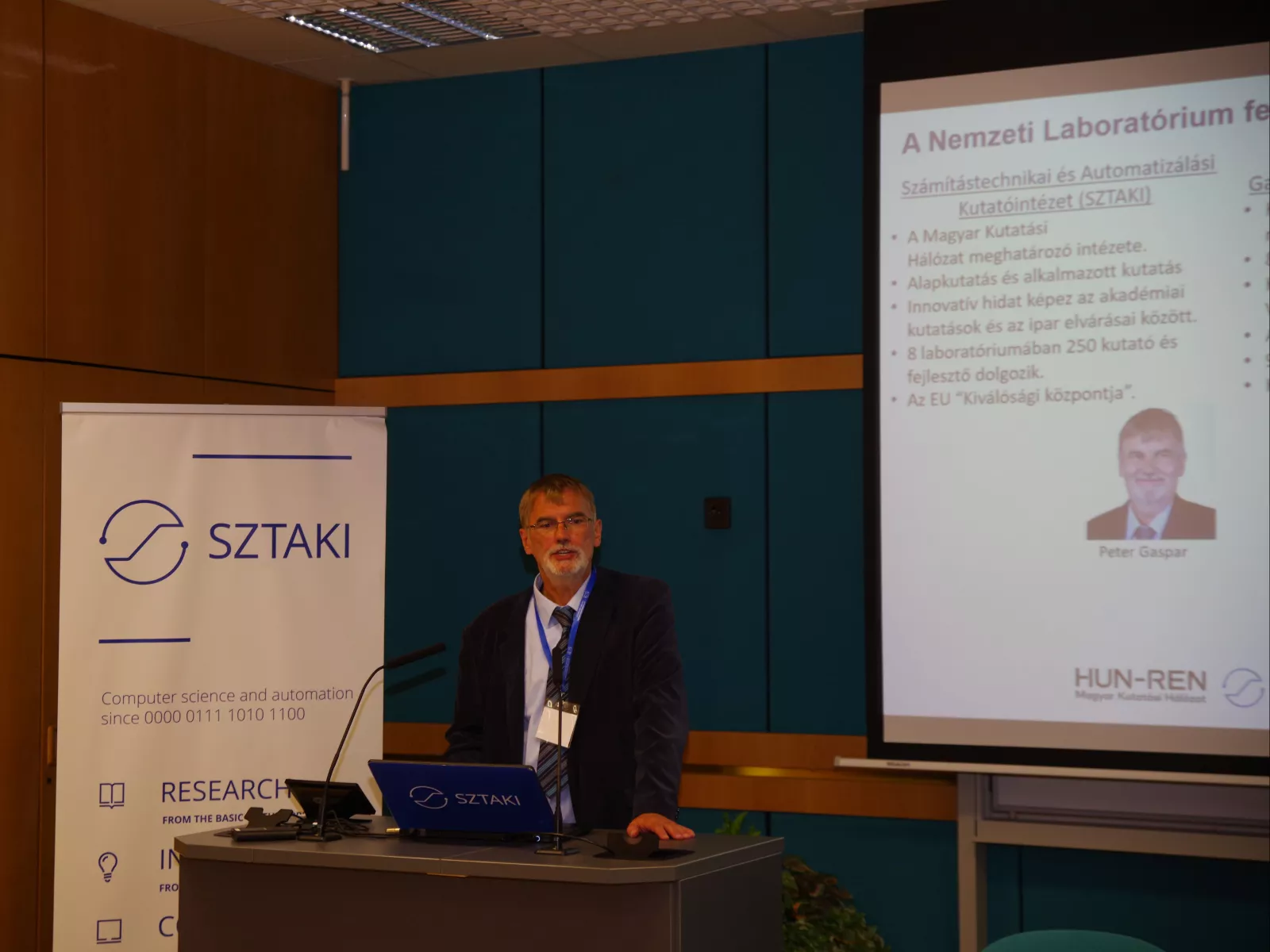 On September 19, 2023, the Autonomous Systems National Laboratory (ARNL), which is coordinated by HUN-REN SZTAKI, held a successful Innovation Day. In addition to HUN-REN SZTAKI researchers, researchers from the other two consortium partners, i.e., Széchenyi University and Budapest University of Technology and Economics, presented their results and solutions at the professional day. The event was attended also by the representatives of industry.
The programme was opened by Prof. Dr. László Lengyel, Vice President for Science and International Affairs of the National Research, Development and Innovation Office. Afterwards, Prof. Dr. Péter Gáspár, Head of Laboratory at HUN-REN SZTAKI and ARNL's Technical Director, reviewed the results achieved by the ARNL.
The programme was divided into three parts: participants first heard presentations on R&D results on autonomous manufacturing systems and digital twin models; on validation of advanced control theory and artificial intelligence based methods developed for an autonomous vehicle platform; and on the navigation and control design for autonomous drones.
After the presentations, the participants watched demonstrations in the HUN-REN SZTAKI's Innovation and Demonstration Space on autonomous systems research at ARNL. In twelve demonstrations, visitors were able to see, among others, a forerunner drone; high-speed manoeuvring drones, as well as the cooperation of autonomous ground and aerial vehicles; automated valet parking; some examples of cloud-based processing of vehicle data; autonomous machine dispatching and digital twin-based autonomous robotics.
The final part of the programme featured presentations on ARNL research projects that have led from problem formulation to problem solution. For example, on robotics developments related to the ZalaZone test track, on reinforcement learning used in autonomous vehicle control, and on the design of mechanically flexible aircraft.